Why Give if I Pay Tuition?
Dear TGS Families:
November 1 ushers in a month noted for a holiday of giving and gratitude, so it seems a perfect time for us to begin a conversation. More often than we probably care to admit, we receive feedback from families who truly are perplexed as to why the school would request donations to our annual fund, or diversions of their Arizona tax liability to our tax credit scholarship programs, when they already invest significantly in their child's tuition. Well, the simple answer is that tuition does not cover the full cost of a Gregory School education: But there are important details behind that statement.
First, let's talk about what your tuition does cover and provide to your child and family. Incorporated into the annual tuition are the following benefits:
Astonishing access to highly skilled faculty members who know your child and see them not only during scheduled classes, but during tutorials, study halls, advisory, clubs, etc.;
Free before- and after-school supervision;
Opportunities to participate in 18 different sports including travel and competitions;
Hundreds of Friday Exploration opportunities;
Full-time one-on-one college counseling;
Customized scheduling and personalized learning opportunities for each child;
Textbooks—no additional fees are assessed for an item valued at approximately $356 per student;
A lunch program that is unmatched in Tucson and provides healthy, nutritious choices that meet a wide variety of dietary needs.
We intentionally avoid "nickel and diming" you with add-on fees and special costs. The only exceptions to that are interim week experiences and some modest athletic costs (for example, a $10 charge for a uniform jersey in middle school that the child keeps).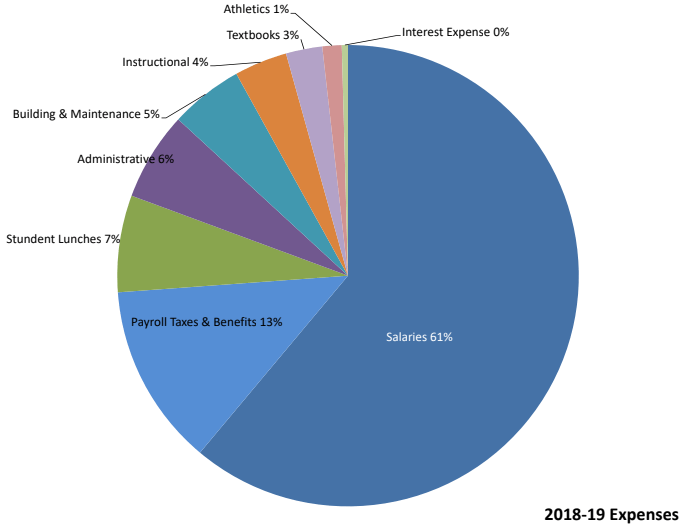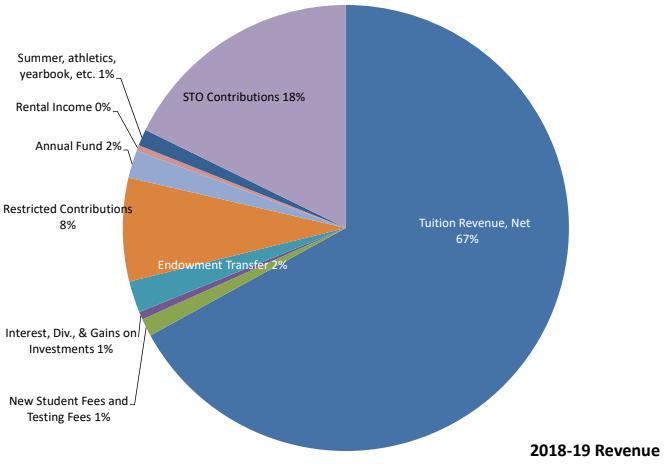 Second, a picture can be worth a thousand words. Top are two pie charts that help break down our annual revenue and expenses. Tuition makes up approximately 65% of our revenue and therefore covers the cost of salaries and benefits. The "value added" expenses are covered through grants, modest rental income, an annual draw on our endowment, and gifts to the annual fund. 
Thank you, in advance, for your attention and support.   

Julie A. Sherrill, Ph.D.
Head of School